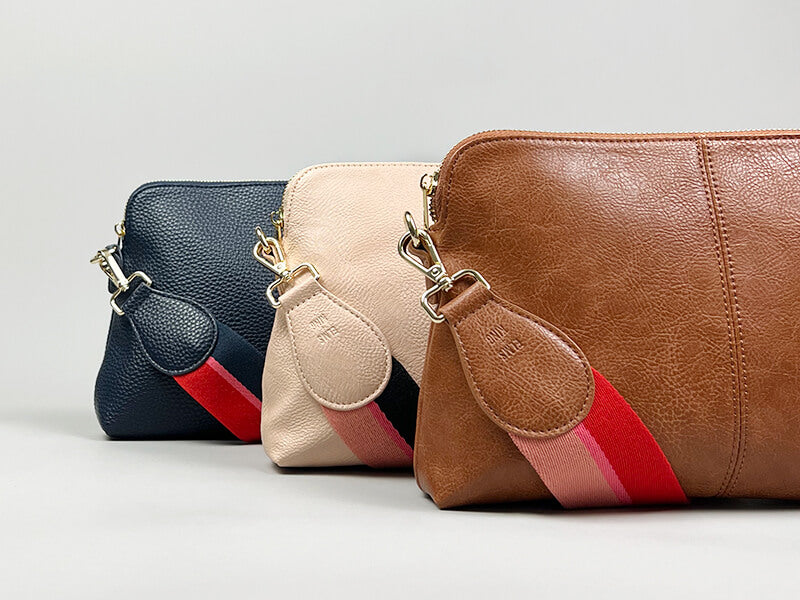 Polyurethane
Known by many names (Vegan Leather, Faux Leather, Pleather, PU), Polyurethane Material is a fabric base that has a polyurethane coating. This coating is then stamped with a texture, giving it the look of leather.
We select fabrics for their hand feel and overall look. Classic pebble textures are our most popular, as are our saffiano and smooth finish styles. PU has the look and feel of the real deal, but it is not derived from any animal product, and no animals are harmed in its manufacturing. The fabrication provides a versatile and affordable alternative to customers looking for an authentic non-leather product.
We are currently transitioning the bulk of our PU materials to GRS certified recycled materials. We are working closely with our suppliers to ensure the increased use of materials that are certified to the Global Recycled Standard. The Global Recycling Standard ensures that materials are produced with 40% post-consumer recycled polyester (PET bottles), 18% pre-consumer recycled polyurethane, 18% Polyurethane, 10% wood fibre and 14% calcium carbonate.
Nylon
Our easy-care nylon is a recycled material, produced and certified under the Global Recycled Standard.
GRS Nylon is produced from 100% post-consumer recycled polyester yarn. The Global Recycling Standard ensures that fabrics are produced from recycled items such as PET bottles.
Canvas
Our signature small check detail canvas is crafted from a blended poly-cotton, ensuring durability and ease of care. Please be mindful that lighter coloured material is prone to colour transfer from darker clothing items (such as dark denim) and keep this in mind when using the bag. We recommend applying a protective fabric spray prior to use. Remember to always test a small patch of the bag prior to coating or cleaning.

We are known for our custom stripe bag straps, crafted from 5cm wide cotton blend webbing. Being a custom design, you are ensured of individual style as our straps are only available from our website and authorised stockists. The webbing is soft and durable, thanks to its cotton polyester blend. Spot cleaning is recommended as needed. Do not immerse in water.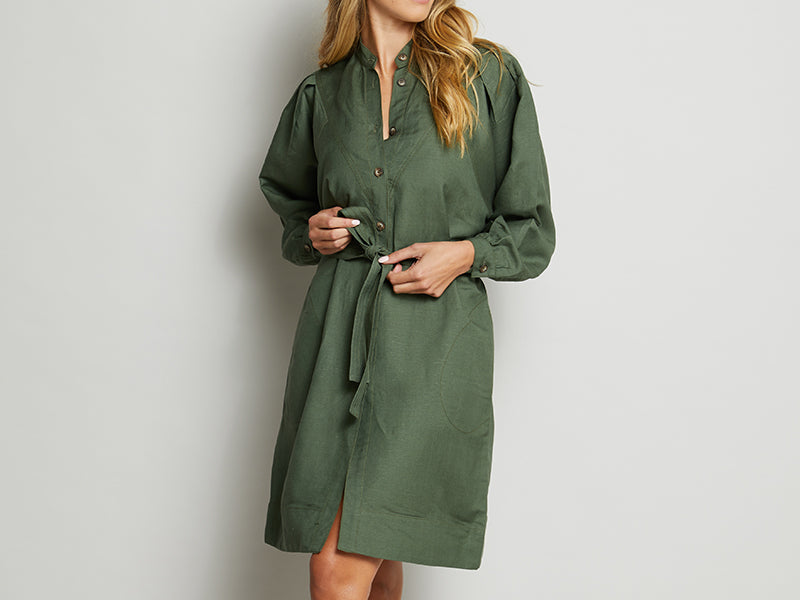 Linen
Our 100% linen garments are made with a heavier winter weight linen, which has a cool touch, natural absorbency and a soft hand feel, making it a fantastic transeasonal fabric.
Cotton/Spandex
Made from 98% cotton, 2% spandex, our stretch cotton has a cool and comfortable hand feel. The fabric is absorbent and durable, and stretches and moves with your body. It is a great mid-weight for your transeasonal staples.
Cashmere
Our knits are made from a premium cashmere blend yarn, consisting of 50% cashmere, 25% merino wool and 25% lyocell (a natural plant fibre known for it's breathability and moister-wicking properties). This blend creates a soft, lightweight and durable yarn that has minimal piling and is resistant to stretching.